We've seen it countless times; customers' oil and gas furnaces stop working on the coldest night of the year. It's a situation you certainly want to avoid, but if it happens to you, you are left with two options, repair or replace. As a general rule of thumb, if your system is under ten years old, repairing the issue is most likely your best bet. The option to replace is viable as well though – modern Carrier systems boast high levels of efficiency and dependability. Whether you have a gas or an oil furnace, our technicians can help lead you to the best decision.
Gas Furnace
Cleaner, safer equipment and higher industry standards have had a positive and lasting effect on the overall efficiency of gas furnaces over the years. A furnace operates by heating air within the furnace unit by either liquid propane or natural gas and then circulating it through your home through a blower and HVAC air ducts. The warm air is transported through vents in the rooms of your house or business to keep you warm. All winter long, you depend on your furnace to heat your home or business without fail. Dependability and energy efficiency is why we install and prefer Carrier. It doesn't get much better than our top of the line Infinity® 98 modulating gas furnace with Greenspeed™ intelligence for unprecedented comfort and energy efficiency.
Gas furnaces are up to 98% efficient on the AFUE (Annual Fuel Utilization Efficiency) rating scale. That means that 98% of the gas fuel is being converted to heat and only 2% is being lost in the chimney.
Benefits of  Gas Furnaces
Natural gas is more energy efficient than oil, saving homeowners hundreds of dollars annually.
The fuel burns more cleanly and quickly than compared to oil, which means fewer air pollutants are exhausted into the air.
Gas furnaces require less fuel while heat output is very high.
Oil Furnace
Oil heating can be one of the most consistent ways to heat your home. Based on the principal of forced air, your furnace handles heating by a fuel source. With oil, many homeowners can expect a clean burning fuel with very little smoke. In the coldest winters oil can bring right amount of comfort to medium and large homes with consistency and efficiency.
Benefits of Oil Furnaces
Unlike gas furnaces, oil burns at a much higher temperature. A single flame from the oil burner can produce an average of 140,000 BTUs while gas produces up to 100,000 BTUs from multiple small jets of ignited gas. Other benefits include:
Varying oil providers give you flexible options for your optimal budget costs and service. Gas services provides by your municipality is a fixed provider and price.
Your oil is safely stored on your property and is under your control. In severe winters, public gas lines can experience a drop in pressure, which could lead to inefficient heating.
Access to oil is an easy installation and delivery, rather than costly upfront costs to install public gas lines into your home.
Carrier's Top Boilers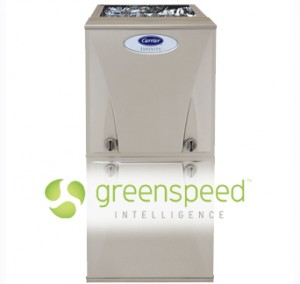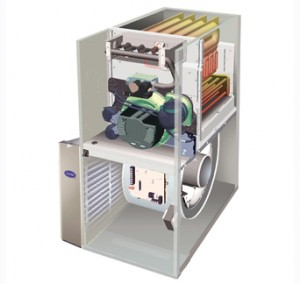 INFINITY® 98 GAS FURNACE WITH GREENSPEED™INTELLIGENCE – 59MN7
TAKING EFFICIENCY TO THE NEXT LEVEL WITH ADAPTABLE-SPEED TECHNOLOGY
Consistent temperature management
Variable-speed blower motor
EFFICIENCY
Up to 98.5% AFUE
All sizes achieve ENERGY STAR® Most Efficient 2012 designation
PERFORMANCE
Load matching performance delivers just the amount of heat needed for longer, quieter run times while minimizing energy use.
The quietest furnace you can buy (060V17-14 model/size)
The most efficient furnace you can buy (060V21-20 model/size)
Best temperature control management among Carrier® furnaces
Allows 4 choices of "constant ON" fan speed operation
Hybrid Heat® compatible
Exceptional year-round humidity management when installed as part of complete Infinity system with added humidifier
Can help boost cooling SEER efficiency when matched with appropriate cooling system components
In zoned systems improves airflow control for greater comfort and quiet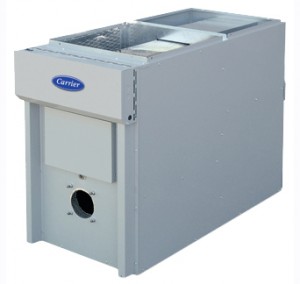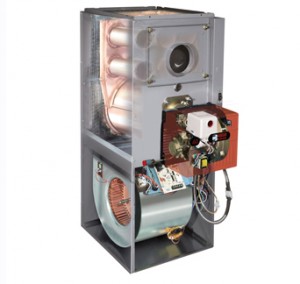 PERFORMANCE™ 80 OIL FURNACE – OVL
ENERGY-EFFICIENT UNIT DESIGNED FOR COMFORT AND LOW CLEARANCE INSTALLATION
ENERGY STAR® qualified in all sizes
Suitable for low clearance installations
Variable-speed blower motor
EFFICIENCY
Up to 86.6% AFUE
All sizes meet ENERGY STAR® qualifications
PERFORMANCE
Hybrid Heat® compatible
Exceptional year-round humidity management when installed as part of complete Performance system with humidifier
AFUE – Annual Fuel Utilization Efficiency. AFUE is a measure of how efficient the appliance is in converting the energy in its fuel to heat over the course of a typical year.