Heat Pump for All Seasons
Did you know that heat pumps have the ability to cool your home during the warmer months? It's true! In fact, Carrier heat pumps will heat, cool, and dehumidify your home all year long. Heat pumps look and function the same as air conditioners for cooling, but in cool months when heat is called for they reverse operations to provide warmth for your home.
Many homeowners in warmer climates rely exclusively on heat pumps for year round comfort. If you live in a colder environment, electric-powered heat pumps are great in combination with your oil- or gas-fueled furnace as a Hybrid Heat® solution, which can result in significant savings on your overall heating costs.
Contact one of our experts today to learn more about heat pumps.
INFINITY® SERIES HEAT PUMP WITH GREENSPEED™ INTELLIGENCE
The pinnacle of Carrier® engineering, our Infinity series heat pump with Greenspeed intelligence offers precise heating and cooling, unwavering comfort, uncompromising energy efficiency and ultra-quiet cooling performance. No wonder this system earned the ENERGY STAR® Most Efficient 2012 qualification. What's more, all Infinity heat pumps can be part of our revolutionary Hybrid Heat® dual fuel system, which saves you money year-round.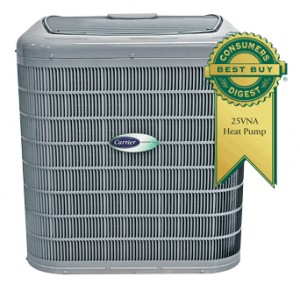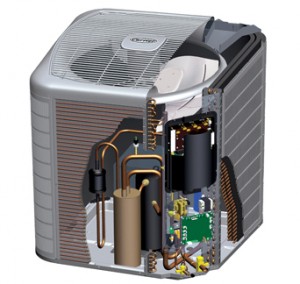 INFINITY® 20 HEAT PUMP WITH GREENSPEED™INTELLIGENCE – 25VNA0
TAKING EFFICIENCY TO THE NEXT LEVEL WITH ADAPTABLE-SPEED TECHNOLOGY
♦ Optimal summer dehumidification
♦ Variable-speed compressorEFFICIENCY
Up to 20.5 SEER
Up to 16 EER
Up to 13 HSPF
All sizes achieve ENERGY STAR® Most Efficient 2012 designation
PERFORMANCE
Optimal summer dehumidification
Load matching performance with speed ranges between 40 and 100%
Cold weather performance: exceptional heating capacity at outside temperatures in the teens.
Hybrid Heat® system compatible
Sound: as low as 58 decibels1