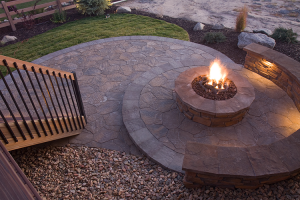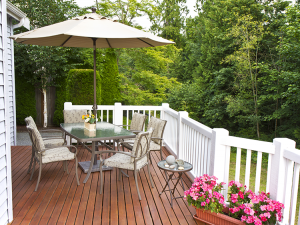 Whether you prefer your feet on solid ground or a little in the air, Royal Plus can bring your vision for your own outdoor sanctuary to life. Our team is dedicated to creating your ideal outdoor living space with a functional and aesthetically pleasing deck or patio space. Whether you are looking for a place to relax or for space to entertain friends and family in the summer months, a new deck or patio can add to the value and use of your home. What's more, when you are ready to sell your property, buyers will see the added living space as a bonus, allowing you to recoup up to 75% of the cost.
You may be surprised to learn that deck and patios are actually two different things. A patio is created directly on the ground while decks are built off the ground at varying heights. At Royal Plus, our team will work with you to ensure that you choose the best option for you and your home. Many homeowners choose to have their decks built attached to their homes from the rear entrance, while others opt to build their deck detached, creating a separate living space. Patios are a less intensive option, which many homeowners often attempt on their own; however, what appears to be a few-hour-project can easily turn into a few week ordeal when choosing the DIY route. Skip the headache and let our team take care of the process for you.
Decks and patios can be fit to your liking, with seemingly endless options for materials, shapes, levels, designs and sizes. Our team works with you from start to finish, helping you select the best option for your home and for your budget. Contact us today to learn more about your deck and patio options.